Cost, workability, durability, insect resistance; these are some of the critical factors you should consider as a homeowner when choosing the material to use in building a deck. Decks are flat surfaces with the ability to carry the same weight as a floor, but are typically constructed outdoors, at a higher point from the ground, and often connected to the main building. They act as extended living spaces and are a great alternative to patios.
With the numerous decking options available, there are some deck materials you absolutely can't do without while starting to build a deck. The following six types of deck materials are highly recommended:
1. Pressure-treated Wood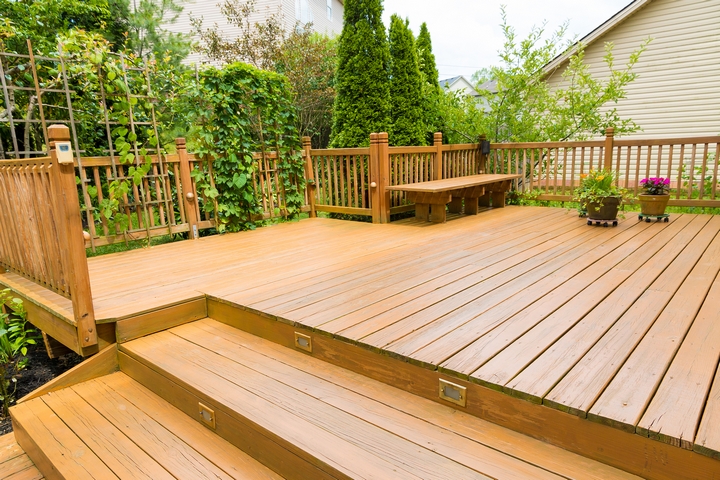 This type of wood tends to be the most commonly used decking material as opposed to fresh, untreated wood. The leading producer of wood preservatives, Arch Treatment Technologies, goes further to state that approximately 75% of all new decks make use of pressure-treated wood for the finishing. It's best suited for places with high humidity or decks that are in direct contact with the ground.
It is also readily available, affordable, is easily cut and fastened with screws and is immune to rot fungus and insect damage. The downside: it cracks and splits easily and therefore requires routine maintenance to achieve longevity. It should be protected with a wood or stain preservative such as alkaline copper quaternary to reduce shrinkage every year and refinished every 3 years. Financial implications range between $1.50 and $3 per square foot.
2. Redwood and Cedar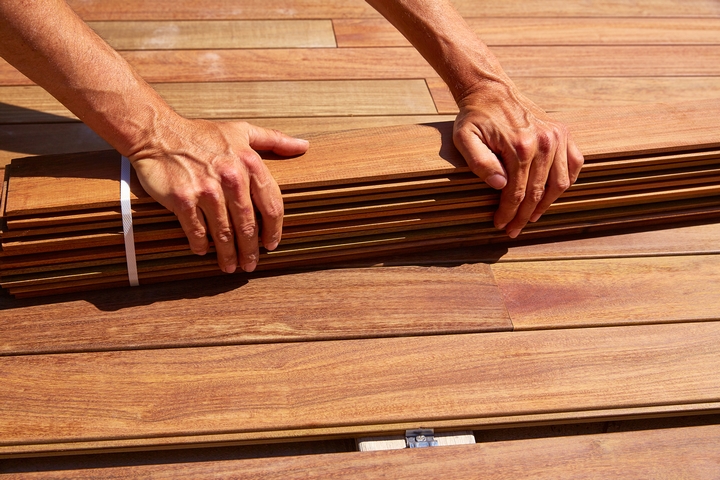 These western softwoods are treasured for their vibrant colour, aesthetic quality, lack of chemical additives or preservatives, and weather resistant nature as they do not succumb to rot, decay or insect damage.
Grade B redwood is recommended as it contains high levels of heartwood (which is resistant to decay), while the architect clear, custom clear, architect knotty and custom knotty cedar grades are perfect for decking. In most regions, redwood and cedar tend to cost at least triple the cost of pressure-treated lumber.
These types of deck materials also require annual power washing, a fresh finishing coat every 3-4 years and a clear water-resistant wood preservative to protect the wood's surface from adverse weather.
3. Tropical Hardwoods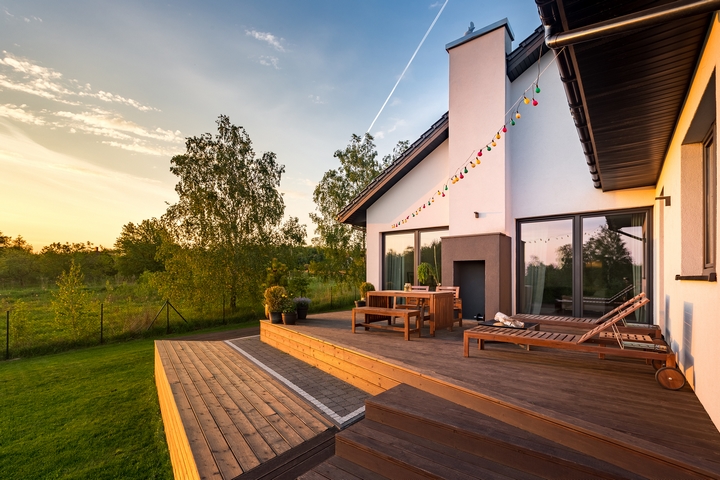 These include exotic and rich-grained hardwoods such as ipe, tigerwood, cumaru, red tauari, Philippine mahogany and massaranduba. They tend to be pretty hard, extremely, durable and resistant to rot and insects. Owing to the dense nature of most tropical hardwoods, they are usually heavy, not as accepting to stains unless oil-based, and very difficult to cut and drill. Before driving a nail or screw through it, you first have to bore a pilot hole.
This is why tropical decking is installed with fasteners that clip on to the edge of the boards. They are similar to redwood and cedar in terms of cost and may begin to fade away to a soft silvery colour if not stained depending on the deck's level of exposure to weather elements.
4. Wood and Plastic Composite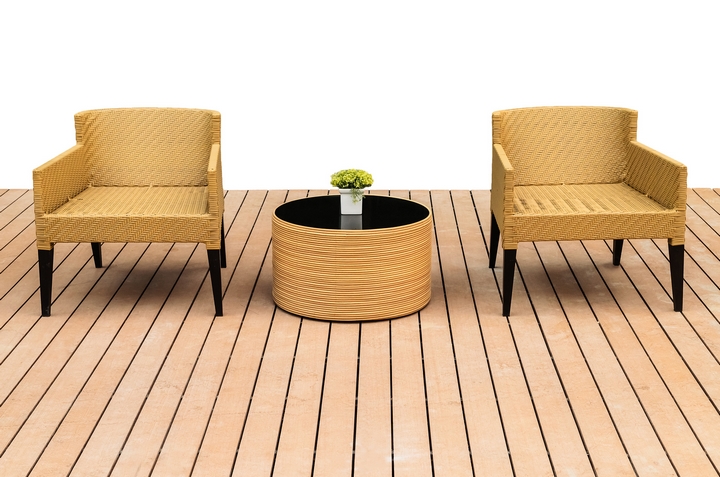 Composite materials, primarily made of recycled plastics and wood fibres such as timbertech, correctdeck and trex, are slowly but surely coming up as the preferred decking material. They bring out the elegance of wood but do not shrink, rot or splinter like actual wood.
They are also easy to clean, don't require yearly painting and can be manufactured in different textures and colours, thus lowering maintenance cost. Plastic lumber, which lacks any wood fibres, is also considered highly resistant to decay and staining and is free of any cracks, knots or splinters.
5. Metal Alternatives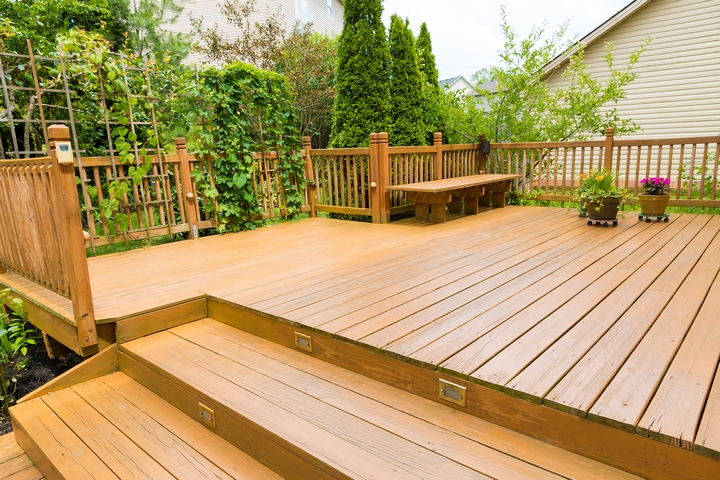 These types of deck materials are ideal for an upper-level deck as it creates a gap-free and watertight surface, especially when installed over large spans. Aluminum decking material such as versadeck is among the most appropriate types of metal as it does not rust, rot or crack, and is mould resistant. Even better, aluminum is fire resistant and intrinsically strong, yet it's three times lighter than wood and composites.
The metal decking material can also be manufactured in different colours, so you get to choose those that you like. However, on the flip side, the surface can be easily affected by extreme temperature, and darker colours may also be affected by over-exposure to the sun. Clean the metal surface at least once a month to prevent water from accumulating on the surface. Of all the decking materials, aluminum is the most expensive; so, you might also need to go back to your budget.
6. Fasteners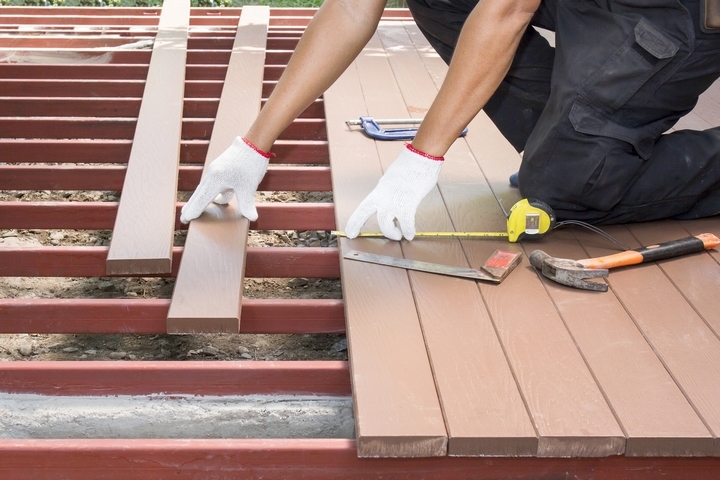 The importance of fasteners cannot be overemphasized. Choosing the appropriate anchors and fasteners is of utmost importance as they tighten the ends of the decking materials. Use stainless steel, which is highly resistant to corrosion or composite and vinyl systems as opposed to electroplated galvanized fasteners.
Whether you want to build a deck for entertainment purposes, like an outdoor dining area, a pool or spa, or even just a place to relax as you enjoy a scenic view, these materials are a must have. Even if you are hiring a professional to build the deck, it doesn't harm to equip yourself with information on how to do it yourself.