Asia is a continent filled with a wide variety of different cultures, each having their own special and unique cuisine. With all of those tasty dishes to try, you could hardly wait to try the best Asian food around the world.
Here are some suggestions from a variety of countries in Asia that you can try throughout your travels:
1. Pad Thai – Thailand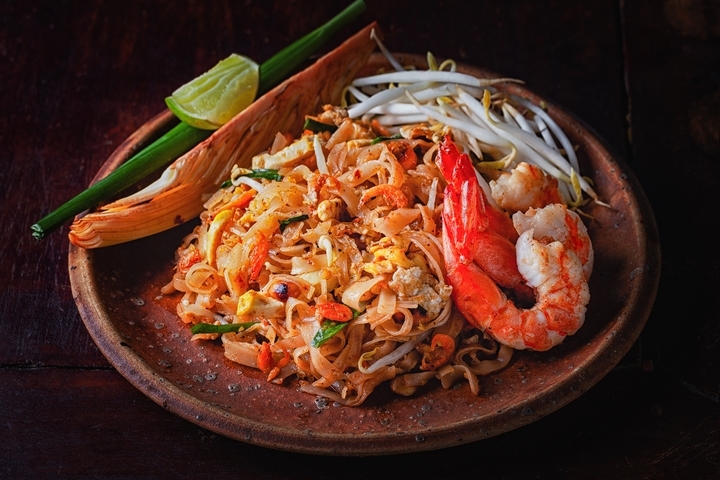 This dish is considered one of the best Asian food around the world.Pad Thai was only invented in the 1940s as part of a search for Thailand's national dish. Although it is similar in many aspects to some Chinese dishes, it is said that Pad Thai is distinctly Thai as a result of the use of tamarind. While Pad Thai is eaten as a meal in many other countries, it is more commonly eaten as a snack in its home country.
2. Bánh xèo – Vietnam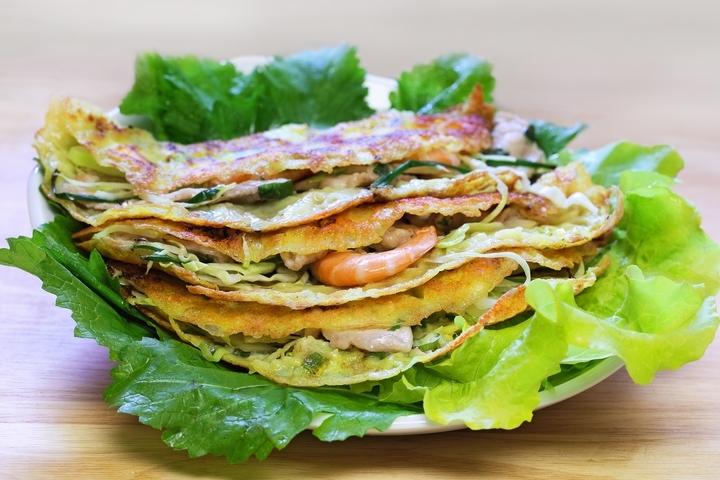 This dish is a popular delicacy in the country of Vietnam. It is a thin, savoury pancake made of rice flour, water, and turmeric powder, and then stuffed with vegetables and meat, or just vegetables. The name literally translates to 'sizzling pancake'. It is called so because of the loud sizzling noise the batter makes when it touches the pre-heated frying pan.
3. Okonomiyaki – Japan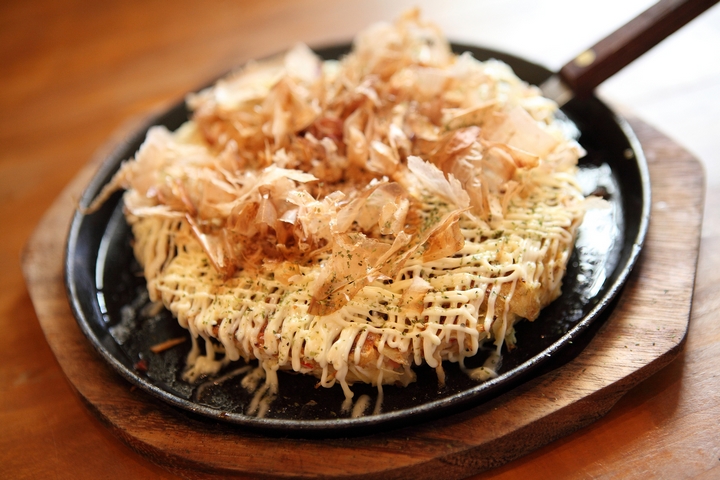 Another pancake styled dish, okonomiyaki is a thick savoury pancake made of cabbage, flour, eggs, and water. It can be topped with any number of toppings including otafuku sauce (also known as okonomiyaki sauce), Japanese mayonnaise, fish flakes, and seaweed flakes. Variations are often made to the standard recipe, with meat and other vegetables being mixed into the batter before frying.
4. Bibimbap – Korea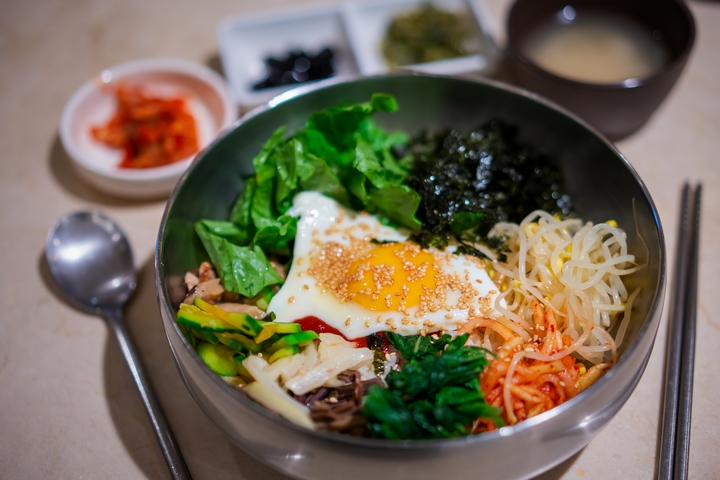 This is one of the best Asian food in both North and South Korea. The name bibimbap literally means 'mixed rice'. The dish is made up of seasoned, sautéed vegetables or kimchi (seasoned and fermented cabbage or Korean radish), and a flavoured sauce like soy sauce, chili pepper paste, or fermented soybean paste. A raw egg and beef are often also added before the entire dish is mixed thoroughly. After a good mixing, it is ready to eat.
5. Chilli crab – Singapore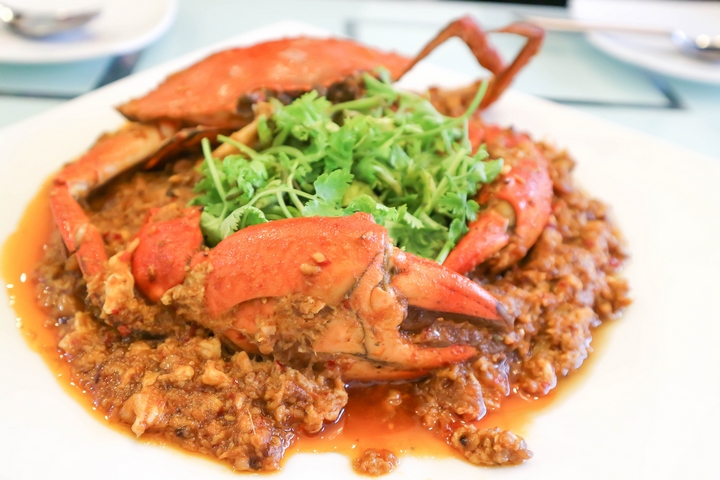 This is one of the best Asian food dishes from Singapore. It is simply made up of mud crabs stir fried in a sauce made of tomato and chilli. The paste is not overly spicy but combines both sweet and savoury flavours. The dish is usually eaten with the hands, and the sauce is often sopped up by steamed or fried buns.
6. Larb – Laos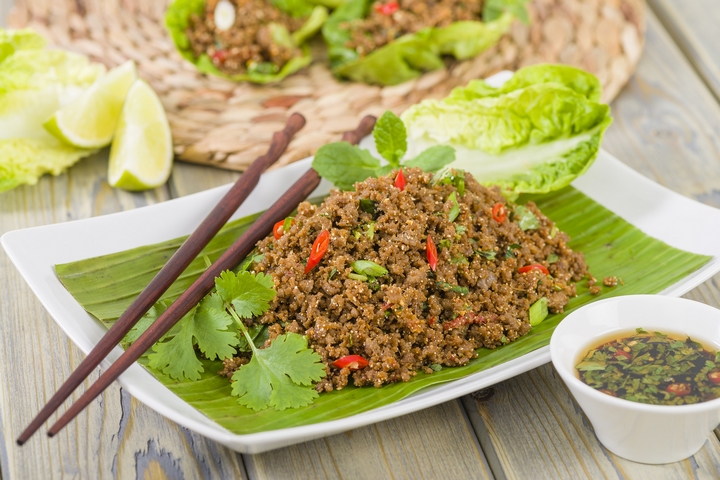 This dish can be made with pretty much any meat, including chicken, duck, beef, pork, and fish, and vegetarian versions exist which use mushrooms as a main ingredient instead. It is mixed with roasted ground rice and mixed herbs, and flavoured with fish sauce, lime juice, and padaek. Padaek is like fish sauce, except it is thicker, more heavily seasoned, and often contains chunks of fish within it.
7. Larb – Thailand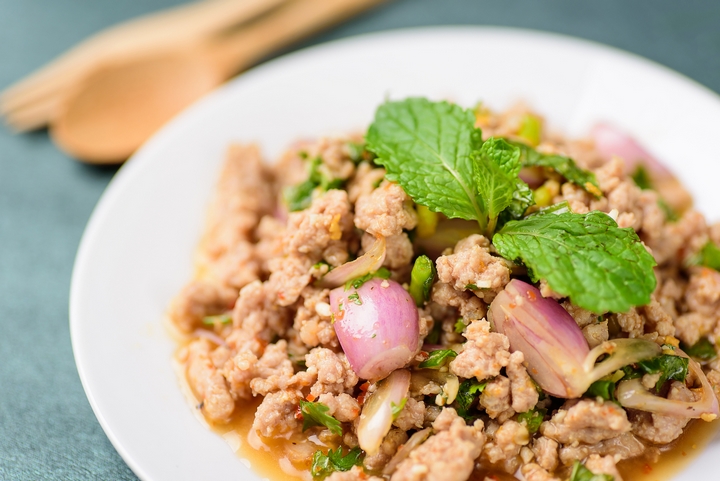 Although it has the same name, the larb found in northern Thailand is very different from that of Laos. All ingredients that make the Lao version sour are removed, and instead a variety of dried spices are used to flavour the dish. The dish also includes the blood of the animal that is used in the dish, often chicken or pork, although there is a version without blood in it called larb khua.
8. Nasi kerabu – Malaysia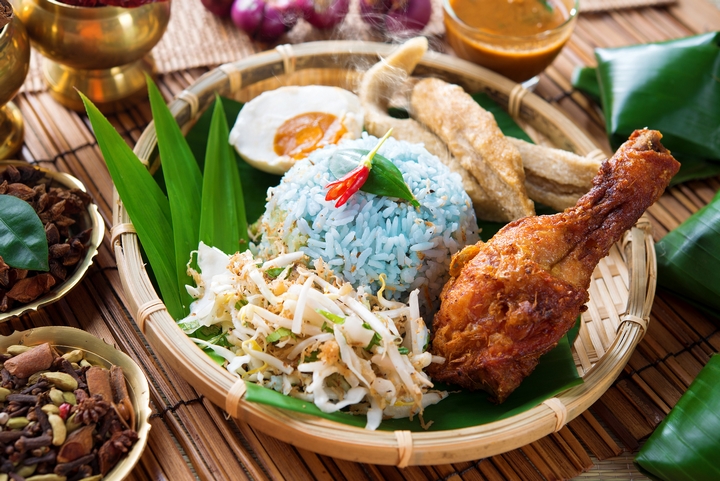 This dish is often eaten for breakfast and consists of a variety of ingredients. First is the blue rice. The rice is cooked with the petals of butterfly-pea flowers (Clitoria ternatea) which gives it its bluish hue. Added to the plate is also dried fish or fried chicken, and keropok – deep fried crackers.
9. Lahpet – Myanmar (Burma)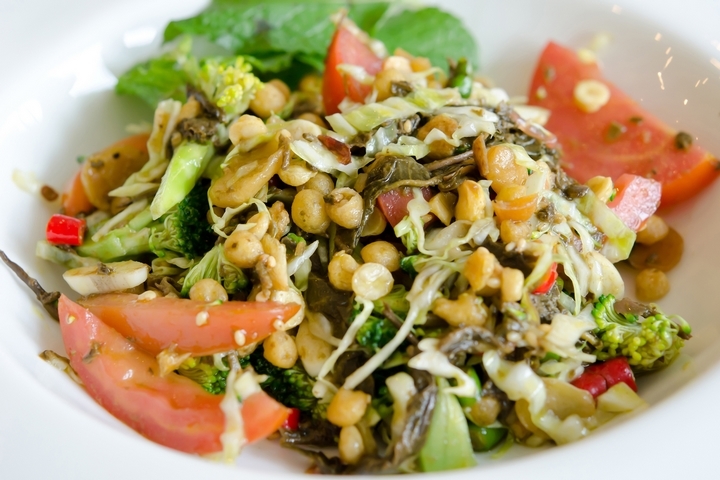 The name literally means pickled tea in Burmese, and that's exactly what this dish is. Often called tea leaf salad in English, lahpet is made up of not much more than fermented or pickled tea leaves. The dish is unique to the region and can be found at pretty much any special event. It is frequently eaten after dinner or for a snack.
10. Wontons – China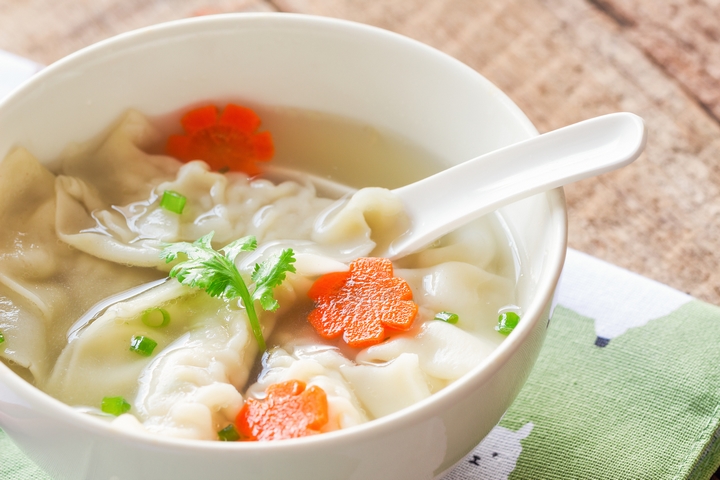 Although popular throughout the world, wontons are a traditionally Chinese dish, eaten as an appetizer. The outside of the wonton is a simple dough made of water, flour, egg, and salt. The dough is then stuffed, usually with ground pork and shrimp, and then folded and sealed. Many different variations exist throughout different regions of China.
11. Yakitori – Japan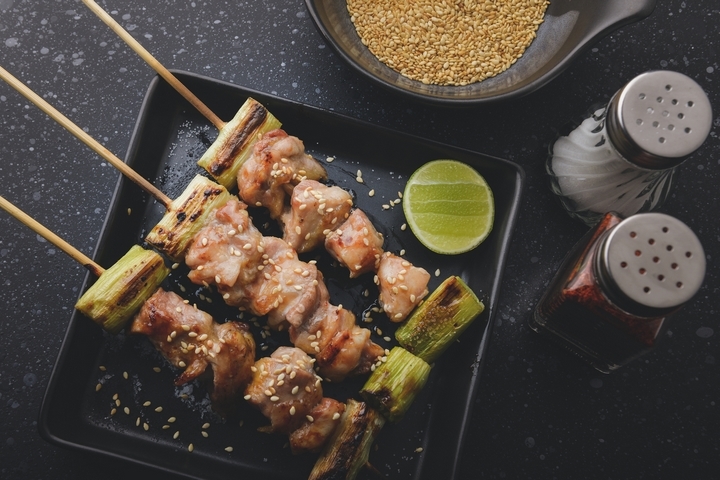 Yakitori is a small skewer of chicken that is grilled over a charcoal fire and usually flavoured with either salt or tare, a sweet dipping sauce. The chicken can also be flavoured with wasabi, shichimi – a seven-flavour chili blend, cayenne pepper, or other flavours. Although this dish can be found throughout many different restaurants in Japan, it is a very common street food, and is often sold from yakitori-ya, small shops that only offer the treat in take-out form.