There's nothing better than marrying two staples together: chicken and red wine. These two ingredients are quite popular and come together well to create recipes that are sure to please.
Whether you have a dinner party coming up or have to bring a dish to a pot-luck, chicken and red wine recipes that will ensure your dish is a success. We hope you find a chicken and red wine recipe that you love from this list!
Recipe #1: Chicken Cacciatore with Red Wine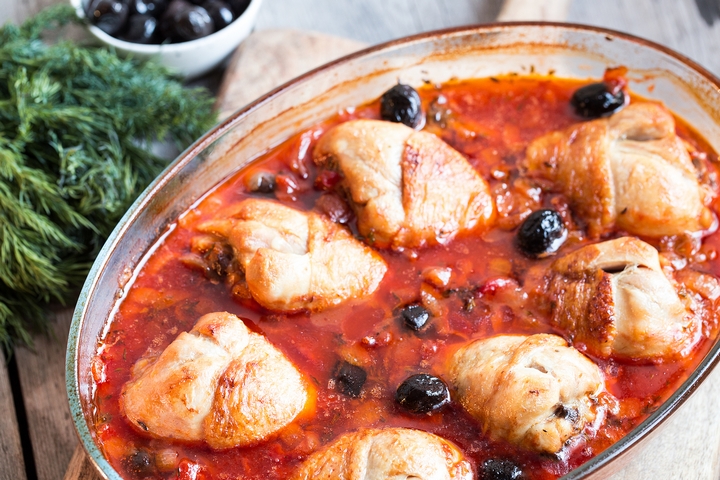 For this dish, you will need a Dutch oven to cook the chicken. Make sure to season the chicken breasts with salt and pepper and then coat with flour before cooking.
Once the chicken is browned on both sides, you can melt butter over medium heat on your Dutch oven. Then, add in the onion, bell pepper and garlic. Once you've cooked and stirred this for five minutes, you can add in the red white of your choosing.
Next up, stir in the tomatoes, broth and oregano and place the chicken over the tomatoes and heat to boiling. Reduce the heat to medium-low and simmer for around 20 minutes.
To serve, lay the chicken over mashed potatoes or spaghetti noodles and spoon the sauce over the chicken. Sprinkle with basil for the finishing touch and you have a hearty meal ready to be enjoyed.
Recipe #2: Chicken Braised in Wine and Rosemary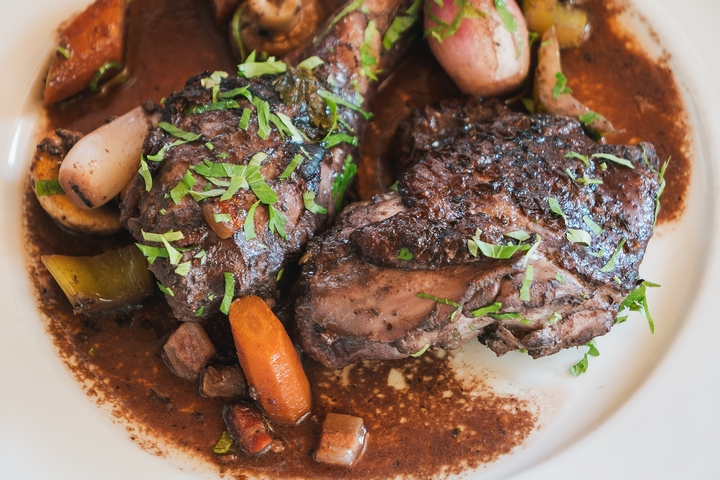 A yummy chicken and red wine recipe is the chicken braised in wine and rosemary. To make this recipe, cut each piece of chicken and sprinkle it with salt and pepper. This recipe also requires a Dutch oven which you will need to heat over high heat. Cover the chicken in flour and add the chicken to a pan coated in oil, cooking on each side for five minutes before removing it.
Next up add the shallots, garlic, and rosemary to a pan and cook for two minutes or until tender, stirring frequently. Add the red wine to the pan and bring it to a boil.
Then, add salt and pepper, chicken stock, sugar, tomatoes, and a bay leaf. Bring that to a boil and return the chicken to the pan. Now you can go ahead and reduce the heat to medium and cook for an additional 15 minutes, turning once.
Once done, sprinkle some chopped parsley and there you have another variation of the popular chicken and red wine dish.
If you're looking for something to serve it with, mashed potatoes and asparagus are great options to pair with the flavours of the red wine.
Recipe #3: Red Wine Roast Chicken Thighs on Bread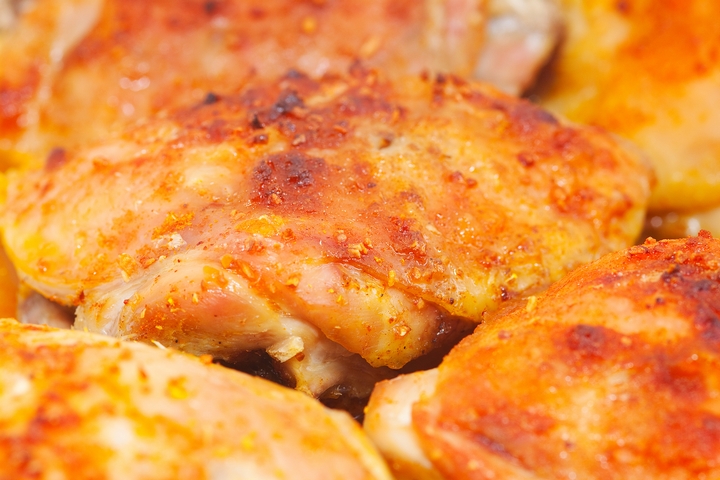 Our mouths are watering just reading the name of this recipe!
To make it, place the chicken, garlic, sage and rosemary sprigs, carrot, celery, onion, bay leaves, and wine in a baking dish. Then, cover the dish and place it in your fridge to marinate overnight.
Once the next day arrives, start by patting the chicken try with a piece of paper towel and strain out the wine. Then, sprinkle the chicken with salt, pepper and chopped rosemary. Warm a skillet over medium-high heat with oil and brown the chicken thighs on both sides and arrange them on your plate.
Melt butter into the oil and brush your slices of bread with the mixture on both sides then add the bread to the pan and brown the slices on each side, turning once.
Now that your bread is complete, top it with two chicken thighs per slice and pour the wine over top. Now, roast this in the oven for 20 minutes.
To make the side, use another pan to heat some olive oil, then add spinach and season with salt, pepper, and nutmeg.
Recipe #4: Roast Chicken and Mushrooms with Red Wine Sauce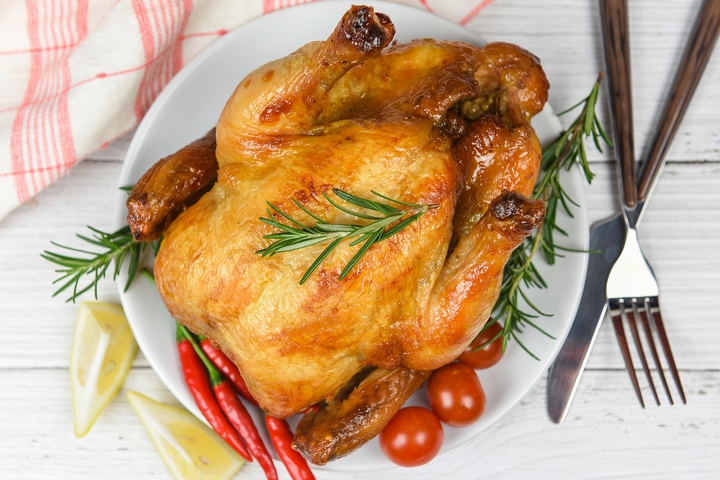 For this dish, you will similarly season the chicken and cook in a pan with olive oil on each side for about six minutes. Then move the chicken to a baking sheet.
For the mushrooms, toss them with the remaining vegetable oil and salt and pepper. Bake until tender.
In the skillet you used before, melt the butter, and add flour, then the broth and bring it to a simmer while whisking. Now you can add the wine, sugar, and salt and let it simmer until the wine is reduced by half. This should take about 10 minutes.
To finish, spoon some of the red wine sauce onto each plate and top with the chicken and mushrooms.
Recipe #5: Chicken and Red Wine Casserole with Dumplings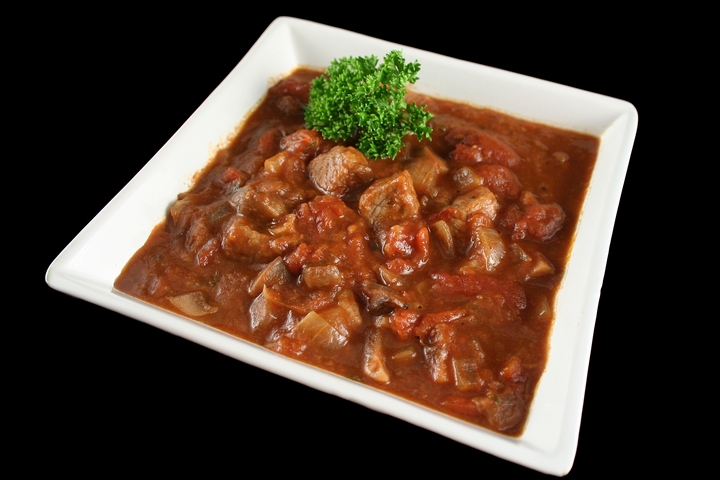 To start this recipe, brown the chicken on both sides. Then, add onions, lardons, garlic, and sprinkle in the flour. Next up, add the mushrooms, bay leaves, redcurrant sauce, and orange zest. Now you can pour in the red wine sauce, stock, salt, and pepper.
Bring it to a boil, then move the chicken to a casserole dish, covering it with the liquid. Put on the lid and cook in the oven for 30 minutes.
While that is cooking you can opt to make your dumplings fresh or use a frozen version.
Once the chicken is done cooking, add the dumplings to the top and cook it for another 20 minutes (if cooking from fresh). Spoon the chicken and sauce onto six plates and top each one with a dumpling. Serve it with a rich, fruity red wine and you're sure to have a recipe that pleases even the pickiest of eaters!
Recipe #6: Chicken Thighs with Shallots in Red Wine Vinegar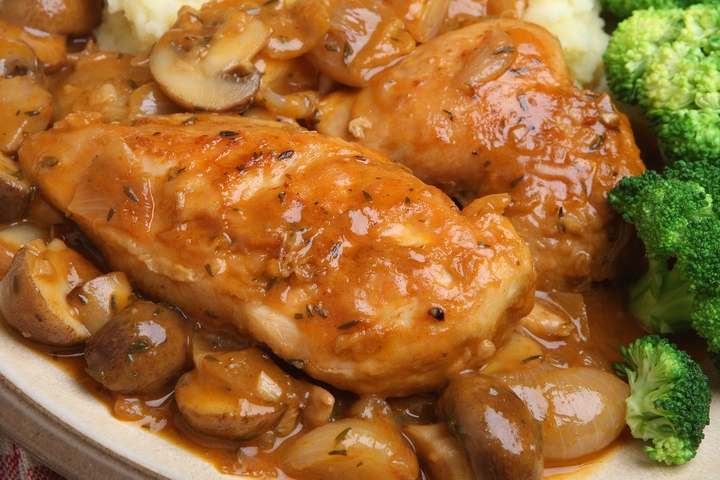 To start this recipe, season the chicken with salt and pepper. In a pan, combine vinegar, honey, chicken broth and tomato paste and boil for about five minutes and remove from the heat.
In a large pan, melt butter over medium-low heat and add the chicken. Cook the chicken on both sides until it's brown. This should take about eight minutes.
Next up, remove the chicken and set it aside. Add the shallots and garlic to the pan and cook on low heat for about five minutes. Pour the sauce over the chicken, add the wine, and the remaining broth, salt and pepper. Cover and simmer for about 20 minutes.
To finish it up, remove the chicken, add sour cream, and stir in the sauce. Boil for a few minutes then return the chicken to the skillet. Finish it off with fresh parsley and you're good to go!